Studio
WELCOME TO STUDIOFORRENT
StudioForRent
The first and only photographer's studio, which is developed for rent. Its 30m² area and its 4m height are the first precondition for comfortable shooting. The variety of equipment and accessories makes the work pleasure. The separate dressing room is the next priority, which makes the models and the photographer feel conveniently.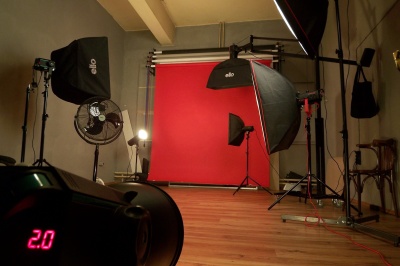 Equipment
The studio is equipped with:
Impulse light: 3х600W/s; 4x500W/s- professional digital flashes, that can be adjusted in a range of 5 f-stops
3x220W/s; 2x150W/s- light adjustment of the power from 1/1 to 1/16
Constant light: 4х800W; 1х650W; 3x300W, 2x250W;
For the play with the light we offer big variety of light formers- reflectors, softboxes, umbrellas, luminous walls, etc.
We have additional stands, booms, as well as other accessories to satisfy every wish and need.
You can find the suitable for your photo session background under 17 colors- 2,75m and 3 colors- 3,6m wide.
Dressing room
The studio has separate dressing room (12 m²), that is well -appointed with table, mirrors, chairs and stools, hangers, also hot and cold water, window, which ensure daylight and enough powerful illumination. The dressing room gives the make-up men, hairdressers, stylists all conditions for their professional work.
Team
If you are model or just want a photo session of you, you can ask for a session with professional photographer.
If you shoot, we can ensure models, makers-up, hairdressers, stylists, designers.

Clients
Our clients are professional photographers, cameramen, amateurs.
Welcome is everyone, who wants to shoot or to be in front the camera for pleasure or for work.
You have projects for art, portrait, fashion, advertising, products photography, portfolio, catalogue, book and so on. - ask, we will help you to realize it.
We serve professionally magazines, presses, wedding, organizer's, fashion, advertising, WEB, casting agencies.
Rent
There some possibilities to rent the studio:
You can rent the studio with the full equipment and accessories.
The price for that is without competition on the market- 30lv/hour
If you rent the studio for the whole day, you receive special discounts.
Our subscriptions give you the best opportunities.
If you have your own equipment, but no area, you can rent only the room.
You can also take advantage on our offer to rent only equipment and accessories, if you want to shoot on your area.
Working time
For your convenience you can use the studio in every hour day or night, every day from the week. You just have to reserve the studio in advance.
Location
We are located in the centre of Sofia and that make it easy to find us.
The studio is in front of "Pirogov", near the General staff.
If you come with urban transport, you can reach us with tram 5 or 19 from The Russian monument or Krasno selo to the "Pirogov" station.
Contacts
Sofia,
bul. Totleben 34, building 5, office 119
0887 246 696 Petya Ivanova- organizer
Skype - petya.ivanova.np
http://www.studioforrent.eu
[email protected]
Welcome!